Support OpenNews and the network strengthening journalism
by Erika Owens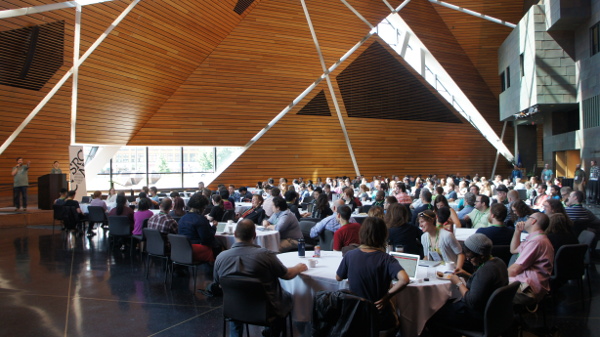 At OpenNews, our work is driven by the needs of the community we serve. And we need your support. This community is made of leaders who are pushing for journalism that empowers audiences with information to hold power accountable and make decisions in their daily lives. These leaders are also pushing to transform how news organizations work and to uphold the values of equity and inclusion we need for a healthy press.
We're raising $30,000 this July and ask for your help to reach our goal. We're already more than halfway there, and every contribution strengthens our ability to do our part to make journalism better.
A network seven years in the making
We believe a diverse community of peers working, learning, and solving problems together can create the stronger, more representative ecosystem that journalism needs to thrive. Through events for newsroom coders and journalists and a wide range of community- and project-support programs, we enable collaboration across organizations. We support the cohorts of leaders who drive change in their newsrooms for more inclusive organizations that create more responsive and ascendant journalism.
Over the last seven years, we've helped a formidable network take shape. Members of this network have led union drives in their newsrooms, built online spaces for connection and support, and offered countless pieces of advice on how to do the work in this field to colleagues around the US and the world. We've supported this network:
The work we're continuing together
As this network has grown over the last seven years, the work we do at OpenNews to support it has evolved and changed as well. The success of our fellowship program showed us how small cohorts can create meaningful change, and the findings from our News Nerd Survey showed how this community sees diversity and inclusion as a top priority in the field. We're taking these learnings and building from them to create cohort programs for journalists of color and technologists at local and regional publications.
We've also learned how supporting the network itself is the most important work we do. We're all in this together. We all need news organizations that can function, thrive, and fight, and we can't afford to wait for people to retire or burn ourselves out. The work is hard right now, and the world is hard. Out of necessity, this network has organized itself in a lot of different ways and spaces to lend support and resilience so we can keep going in this fight. At OpenNews, it's our job to help connect those spaces, to lend support and strategy and capacity-building to fortify this community, to help make sure we can keep doing this work.
With your support, we'll be able to continue to grow our efforts. Please donate today. Thank you.
posted July 16, 2018 | posted in
OpenNews
The latest from the OpenNews team
Read all our news in our OpenNews blog