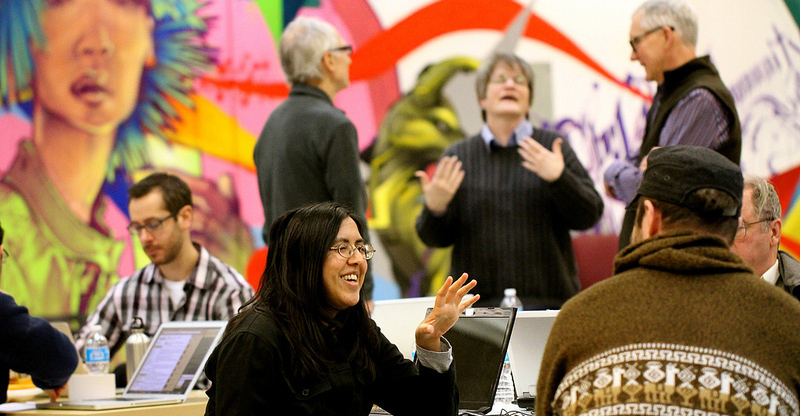 Event Support
Since 2012, we've sponsored nearly 100 hack days and projects around the world where journalists and developers have worked with data from censuses, elections, campaign finance, and more. We provide financial support and planning help to local organizers, and we'd love to help with your event.
Maybe you've already got something in the works, but you want to have a two-day hackfest instead of one. Maybe you've got everything lined up, but you want to offer travel grants for your event. Maybe you need advice on organization. Maybe you want to bring us in to do something from scratch. There are a lot of ways we can help—the key element is that it brings awesome projects and people into the community. Check out our event listings on Source for a taste of the variety of events underway in and around news code.
Upcoming OpenNews-sponsored Hack Days
Our sponsorship process is easy and open. Here's what we're looking for:
Journalistic framing: We want to get more developers working on journalistic problem sets, so there needs to be a journalistic frame for your event—not something abstract, like "hack the news," but along the lines of "build geolocational tools for information gathering."
A report-back: After your event, we need a blog post that documents the day, including what projects were created, who came, and how the event helped your community. We'd also love for you to join us on the OpenNews community call to talk about the event.
Credit: And, of course, list us as a sponsor.
That's it! You want to hack, we want to help.
We've set up a form so you can let us know what you're thinking and we can talk about how we can most effectively help. So let's do this.
Emerging Projects
Some projects that got their start at hack days or via project sponsorships include:
Documentation
We're also working on some documentation to help you in planning, organizing, and facilitating hack day events. Your questions and feedback are a critical part of making the documentation more useful for everyone.
The latest from the OpenNews team
Read all our news in our OpenNews feed